Film présentant la région d'Albert (Somme, France) . Ce petit documentaire a été réalisé par des élèves du collège Pierre et Marie Curie d'Albert en collaboration avec la Somme Remembrance As
JK Rowling great grand father
Who do you think you are?
Emission sur la BBC relate les recherches de JK ROWLING (auteur de Harry Potter) sur son arrière grand père, Soldat Français dans l'armée territoriale qui a combattu à Courcelles le Comte le 3 octobre 1914
LAURA ROSSI composed the music of the film "The Battle of the Somme"
Laura Rossi a composé la nouvelle musique du film de 1916 "Bataille de la Somme" , cliquez sur l'image pour acheter le CD
Composer of the new orchestral score to the 1916 film "The Battle of the Somme"
Buy the CD 
HERE
Extraits de Journaux télévisés
VOICE OF REMEMBRANCE > DISCOVER THIS NEW CD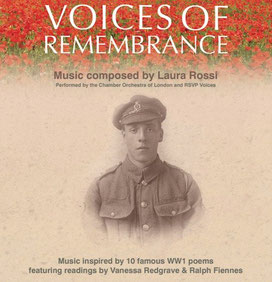 Voice of Remembrance
Vanessa Redgrave & Ralph Fiennes read famous war poems in new choral/ orchestral work by Laura Rossi.
To find out more , listen to the CD and Buy it , click on the CD cover.
Voice of Remembrance
Vanessa Redgrave et Ralph Fiennes lisent des poèmes de la Grande Guerre sur des compositions de Laura Rossi
FROMELLES
Exhumation des corps de 250 soldats Britanniques et Australiens à Fromelles (59)
Le Ministre Australien des Anciens Combattants à Fromelles.
Extraits des Journaux télévisés de France 3 Nord-Pas-de-Calais.